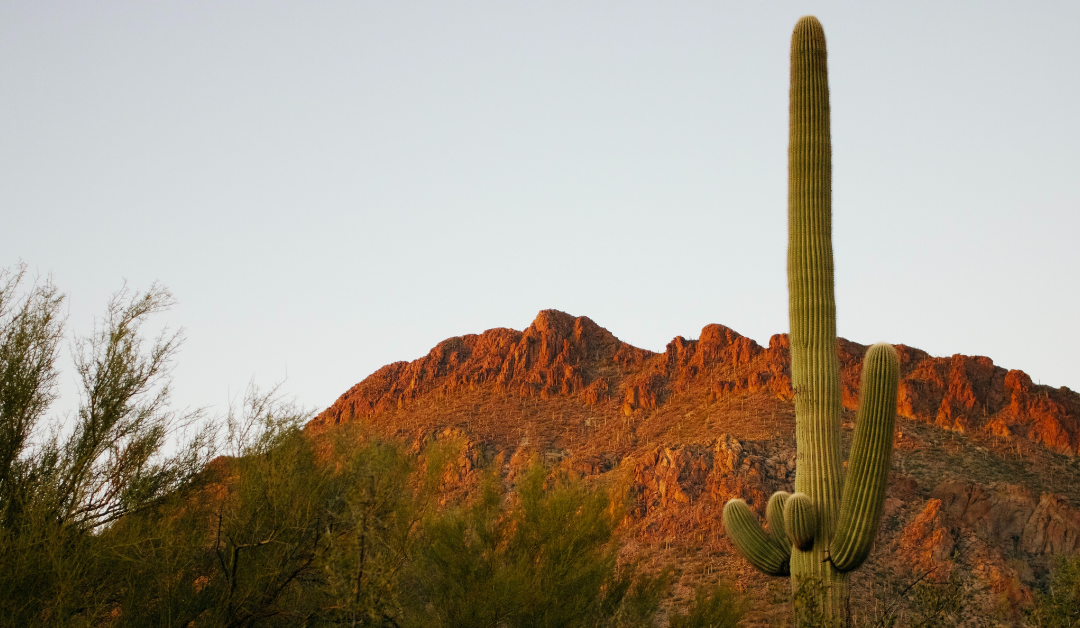 Last week, my husband, Herb, and I rented a luxurious Airbnb on the Northwest side of Tucson for 8 days to celebrate our "On Average 60th" birthday. I just turned 59. Herb turned 61. We adore the entire area and thought we were staying in the part of town we knew, for a familiar experience. It didn't turn out that way. We were 30 minutes from where we thought we would be. We made an awesome mistake. The place was seven minutes from Saguaro National Park, somewhere we had never been, or even known about, in all our other visits to Tucson.
The Backstory
And now for a bit about me and hiking. I just had a conversation with one of my brothers who is an avid lover of the outdoors. So is his wife and entire family. They camp and hike and have a cabin in the woods. They know the sounds of the birds and all the flora and fauna. I told him hiking is terrifying to me. You go up and down. You can get lost. I have horrible arthritis everywhere and the wrong step can shoot pain in ways I prefer to avoid. In theory I want to hike. It sounds very romantic and adventurous. I'm just terrified.
The Experience
Our "best couple," Michelle and Don, was with us on this trip. One of them is a bold adventurer of all things FAST. Motorcycles, boats, cars, ATVs, snowmobiles. The other is fit and more of an adventurer of the spa rather than the mountain.
Herb found a hike in the National Park that sounded suitable to the entire group. It was about 4 miles out and back. The halfway point was someplace he and I had already seen called Signal Point. Michelle was dubious but totally agreeable. Don is game for anything. I was terrified but kept silent. I figured there were four of us so if any of my fears came to fruition, I would be saved.
Here is what I learned while on our hike:
Doing research to find the right trail is helpful when you are a beginner.
The hardest part is getting started.
Sometimes, the path isn't always obvious.
When the path isn't obvious, it's great to have a team to decide which turn is the best way to go.
Up is way harder than down, but the view from the top is breathtaking.
"You gain strength, courage and confidence by every experience in which you really stop to look fear in the face. You are able to say to yourself, 'I have lived through this horror. I can take the next thing that comes along.' You must do the thing you think you cannot do."

-Eleanor Roosevelt
The Takeaway
All this got me thinking about a "bucket list". If I had one, which I don't, taking a hike in the Saguaro National Park would NEVER have been on it. I was not aware of the park and hikes terrified me.
The lesson is to pay attention!
Things present themselves to you in unexpected ways. What may seem like a mistake (like picking a place on the "wrong side of town") ended up being an unbelievable opportunity. And taking that hike gave me insight into how great it can be to conquer a fear. Especially when you have the right team by your side.
Allowing ourselves to be taken in new directions through the power of serendipity can be difficult when we follow a structured routine without a lot of variables. But whether you're taking a vacation, trying a new hobby, or experimenting with small changes to your routine, if you give yourself the opportunity for an unexpected path to open in front of you, you never know what brand new perspective a novel experience can give you! There's no reason to wait around to let it come to you. Seek it out yourself!
If you're seeking insights on hiking, you might want to look elsewhere (just kidding, I have a lot of new resources to share, beginner-to-beginner!). But if you're excited about the idea of stumbling into a new experience simply by making a few small changes, reach out to me for a FREE 30-minute sample coaching session, where we can discuss which areas of your life you'd like to explore with fresh eyes. Together, we'll imagine your life's possibilities!